Sato CL4NX Industrial Barcode Label Printer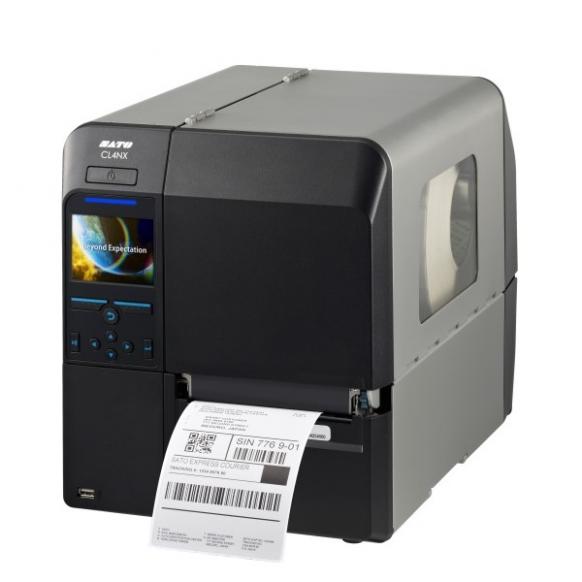 OVERVIEW

SATO's first truly universal industrial label printer engineered for the most demanding printing needs

SATO's next generation of 4-inch industrial thermal printers with advanced support for barcode symbologies, character sets and RFID encoding. The CL4NX printer incorporates value-added features in a world-class design to deliver a printing solution that goes beyond expectations.

Features

Standalone printing
Using Application-enabled Printing (AEP) within printer, operator is able to connect printer with peripheral devices such as barcode scanner, keypad, etc for PC-less printing which saves cost and space.

Easy barcode check
Install stand-kit and certified scanner (sold separately) to check 1D & 2D codes when each label is printed. Printer prints void mark on defective labels.

Dynamic integration
Multiple interfaces such as serial, parallel, LAN, USB and WLAN available. Competitive language emulations enable direct replacement of printers in legacy applications.

Accurate and efficient performance
Head check function performs print head status check before each print. UHF and HF RFID options support wide variety of tags and include adjustable antenna system for optimal inlay encoding.

Sustainable innovation
Coreless ribbon uptake simplifies loading process, optional linerless kit eliminates waste associated with traditional label production.

Industrial durability
Die-cast aluminium frame, print and ribbon mechanism provide solid stability. Metal casing including front panel and side covers for protection against industrial environment.

Functional design
Bi-fold cover allows compact design and reduces workspace requirement. Snap-in print head, tool-less platen replacement minimise downtime and simplifies maintenance.

Intuitive operation
LED indicator and color display alert operator to printer status. Guidance videos assist in error resolution and printer maintenance.

Learn more about CL4NX printer:

SATO Online Services (SOS)
Cloud-based IoT solution to keep your operations running & visible
By keeping constant watch on printer status, SOS notifies operator when an expendable part needs replacement and offers prompt and effective resolution to problems. SOS enables user to:
- Minimise downtime through proactive preventative maintenance
- Keep all printers visible to achieve efficiency with dashboard
- Use SOS to manage all IT assets on-site

Application Enabled Printing (AEP)
Embedded within the printer, this next generation of smart printing allows CL4NX printer to be used as a standalone printing solution, eliminating the need for costly computers. It enables user to connect printer with peripheral devices such as barcode scanner, keypad, etc for PC-less printing.

Printer Options
- Cutter
- Dispenser
- Dispenser with rewinder
- Linerless cutter
- Real-time clock (RTC)
- WLAN
- UHF RFID
- HF RFID


Please contact us for more information.