PCE Instruments PCE-900 Portable Metal Hardness Tester incl. ISO Calibration Certificate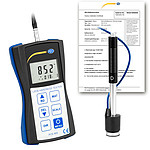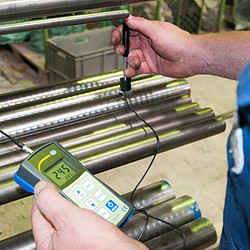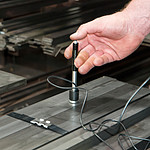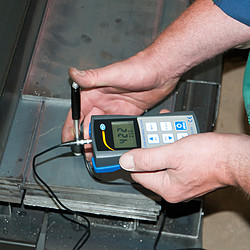 Description/Highlights
PCE-900 Portable metal hardness tester for metals
Measurement of tensile strength/9 materials pre-calibrated/Conversion into 6 different hardness scales/Type D impact probe


The Leeb Portable Metal Hardness Tester PCE-900 measures the hardness of nine different metals using the Leeb rebound method. This means that with the hardness tester a firing pin bounces on a metallic surface and the intensity of the rebound is used as an indicator of the material hardness. The hardness tester PCE-900 measures the metal hardness in 6 different hardness scales, including: Rockwell, Vickers, Leeb, Brinell and Shore. A distinction is made between Rockwell B and C when measuring in the Rockwell scale.
The Leeb hardness tester PCE-900 comes with a type D impact probe as standard. This probe can be used for many measurements. Via the optional software, the measured values can be transmitted live to the PC. The scope of supply is completed by an ISO calibration certificate which certifies the accuracy of the measuring device with traceability. This makes the PCE-900 Leeb hardness tester an important instrument in the field of material inspection in goods control.
- Hardness test by the rebound method
- 9 material presets
- Easy to handle
- ISO calibration certificate included
- Data interface
- Six different hardness scales
- Incl. ISO calibration certificate
Specification
Measuring range

200 ... 900 HL

Measuring accuracy

± 0.8% at HLD=900

Materials

9 common material presets

Hardness scales

Leeb: HL




Rockwell C: HRC




Rockwell B: HRB




Brinell: HB




Vickers: HV




Shore: HSD

Display

12.5 mm / 0.5" LCD with backlight

Impact probe

Type D

Memory

50 data sets

Interface

RS-232

Power supply

4 x 1.5V AAA batteries

Environmental conditions

Operating temperature: -10 ... 50°C / 14 ... 122°F




Storage temperature: -30 ... 60°C / -22 ... 140°F




Relative humidity: < 90%

Dimensions

142 x 77 x 40 mm / 5.59 x 3.03 x 1.58 in

Weight

Device weight: ca. 130 g / < 1 lb




Probe weight: 75 g / < 1 lb

Cable length

ca. 1.2 m / 3.9 ft
Delivery Scope
1 x Leeb Hardness Tester PCE-900
1 x Impact probe Type D
1 x Test block
1 x Support ring
1 x Cleaning brush
1 x Carrying case
1 x User manual
1 x ISO calibration certificate
Please contact us for more information.