PCE Instruments PCE-CIC 5 Color Matching Cabinet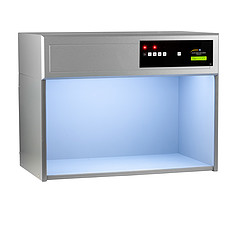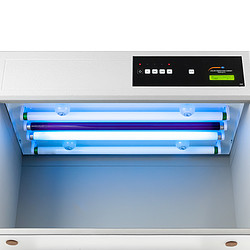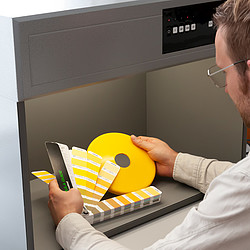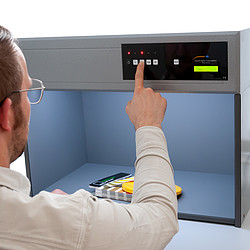 Description / Highlights
Color matching cabinet for comparing colors / Four types of light D65, A, TL84, UV / Simple and quick installation / Compliance with ASTM D1729 standard
A color matching cabinet enables the user to make direct visual color comparisons on products that are to be produced or are already in production. Color comparisons in a color matching cabinet are important for a company that aims to offer high and consistent quality in its products. The color matching cabinet supports four different types of light. The types of light are previously defined types of light such as daylight, retail store light, UV light and incandescent lamps. The color matching cabinet can be used to prevent metamerism before the product goes into series production, for example. The color matching cabinet also forms an important part of quality assurance. In this way, it can also be checked during the production of products whether the color values are still within the required range.
Metamerism in general refers to the fact that the same colors can look different under different types of light.
The internal operating hours counter of the color matching cabinet registers the lighting times of the individual lamps and thus ensures that the lamps are not changed too early or too late. The usage time of the illuminants in a color matching cabinet should not exceed 2000 hours. In addition to the operating hours, the switch-on processes for each type of light in the color matching cabinet are also counted.
- Color assessment with 4 different types of light
- UV light included
- Meets ASTM D1729 standards
- Neutral Munsell N8 coating
- Operating hours counter per type of light
- Large lighting area of the objects
Specification
Daylight, standard light / light color
D65 / ca. 6500 K
Retail store light / light color
TL84 / ca. 4000 K
House light / light color
A; F / ca. 2700 K
Ultraviolet / wavelength
UV / 365 nm
External dimensions
710 x 405 x 570 mm
Internal dimensions
680 x 385 x 355 mm
Power supply
230 V AC / 50 Hz
Operating hours counter per light typeyesStandards
ASTM D 1729, ISO 3664
Delivery Scope
1 x Color Matching Cabinet PCE-CIC 5
2 x Fluorescent lamp D65 18 W
2 x Fluorescent lamp TL 84 18 W
1 x Fluorescent lamp UV
4 x Light bulb 40 W
1 x User manual